Variable frequency drive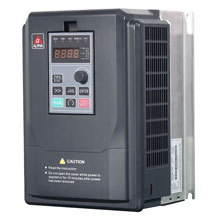 The variable frequency drive is special magnetic flux sensorless vector control mode, with detachable LCD/LED keypads & compact design for easy installation in different environment; Modbus-RTU RS-485 communication function; Automatic running continuous while power off in a certain time and tracking the motor speed in real time to start it at the same speed & direction, to protect the AC motor from current shock impact. It's the valued drives in Low Voltage (LV) applications for AC
motor speed control
to save electricity energy.
Features
Power range: 0.4kW to 2.2kW for 1 phase 220V
0.75kW to 500kW for 3 phase 380V
Input voltage: 200V - 240V, 380V - 440V ± 15%
Output voltage: 0 - input voltage
1) Sensorless vector control model variable frequency drive
2) Wide range input voltage
3) Stable operation in unstable power supply area, continuous running automatically in instantaneous electricity power off
4) Track electric motor speed in real time to avoid shock impact to the motor
5) Built in PID to achieve close loop control easily
6) Built in braking unit for brake resistor connection to enhance accurate control
7) Output high torque under very low frequency
8) Support RS485, Modbus-RTU for PLC control communication
9) 32 bit high speed CPU to ensure rapid response to load's change
10) Check & modify the VFD parameters online
11) Comprehensive fault protection to monitor failed operation record
12) LCD / LED keypad for option
13) Simple PLC control with multi-step program terminals function
14) Wobble frequency control special for spinning
Plus, we made customized VFD drives according to clients special requirements and offer solutions. see more on Gozuk for motor controls.
Applications
Pumps, fans, city water supply, textile, Plastic extruder machines, greenhouse and much more